The Post-Op Diet: Food Guidelines After Bariatric Surgery
After undergoing bariatric surgery you are on your way to a healthy lifestyle with reduced health issues. To help with post-operation recovery and get you back to full health faster, it's important to eat right and follow a strict transition diet while your stomach heals. Our Dietitians are here to guide you through this phase.
The aim of the post-op diet is to allow your stomach to heal without stretching, and get you accustomed to your new smaller stomach.
Every bariatric surgery candidate is different. What follows is a general guide to good eating, but remember:
You may move through the transition diet at a different pace – but don't go too quickly
Listen to your dietitian's advice
Attend all post-op appointments to stay on track
Pre-op diet
You may be required to follow a pre-operation diet. This gets your body ready for surgery, mostly reducing the size of your liver and drying the fat in your liver up so it doesn't ooze and leak during surgery.
The first two weeks
For the first day or two after surgery, you will need to stick to a clear liquid diet, limiting intake to ¼ cup at a time.   You will soon progress to ½ cup servings of nourishing protein-rich fluids: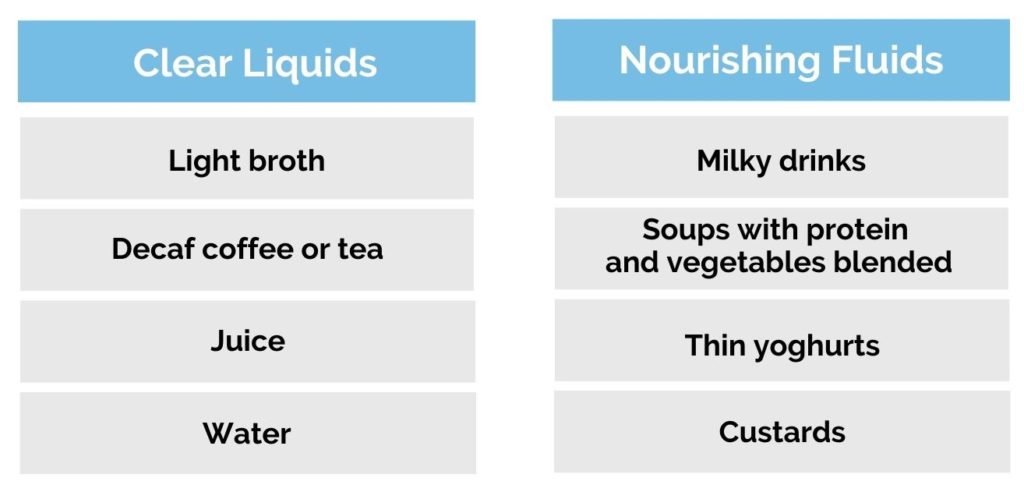 After a few days tolerating liquids, it's time to introduce thicker liquids and purees into your post-op diet. Your new anatomy is still recovering from surgery and it's vital not to over-stress your stomach pouch. Recommended foods to puree at this stage include:
Weeks two to four
Listen to advice from your dietitian to safely start introducing soft foods into your transition diet. You can generally start to eat 3-5 small meals a day, no more than a half-cup serving size. There are 4 stages to the transition diet and your dietitian will discuss this with you at your appointment.
Remember: chew your food until it is puree consistency before swallowing. Stop eating before you feel full, and drink at least 1 cup of liquids between meals.
Vitamin supplements
To get the right vitamins and minerals you will need to take supplements. Initially, you will be having a chewable multivitamin.  Your Dietitian will be discussing your blood test results and will make sure you are getting enough protein, calcium, iron, vitamin D, vitamin B12 and other essential nutrients.
Four weeks to six months
Your first follow-up appointment will take place around 6-8 weeks post-op. By this stage, following your dietician's advice, you are likely to be having a small amount of solid foods – the amount and texture will depend on your own progression and tolerance.
General good eating guidelines
Over time your new eating habits will become second nature. Overeating will become a thing of the past, and with advice from your bariatric surgeon and dietitian, you can maintain a healthy lifestyle without putting weight back on.
With regular post-op appointments with your bariatric surgeon Dr Siva Gounder, and your Dietitian you will form lifestyle habits that keep you healthy in the long term.
For more information, contact us today on (08) 6155-8822 or click here to book a bulk-billed online appointment today.